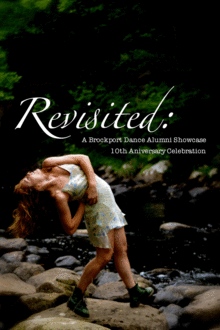 This weekend, At CPR, Center for Performing Research, in Williamsburg, SUNY Brockport dance alumni are presenting new work in a show entitled Revisited.
Marisa Ballaro, a dear friend of mine, and a Certified Personal Trainer, has choreographed a short piece using the music of the band, wakos (wise and kind old souls). It's part of a larger process that will involve a live performance with the band and aerialists at The Muse in Williamsburg.
I'm thrilled to be a part of this project and can't wait to see where it leads us. It is so refreshing to be dancing and doing something that I truly enjoy. With the craziness of the city and struggling to get through each day, it is a fantastic reminder of why I choose to live in this city and live this life.
As an alum of The Ohio State University I would love to see all of us Ohioans living here in NY get together to do something similar. It's always good to be creating and collaborating with your peers!
Revisited details:
When:  Friday, January 20th OR Saturday, January 21st – 7:30pm
Where: Center for Performance Research – 361 Manhattan Ave., Unit 1 (Williamsburg, BK)
Tickets: $20 (https://www.brownpapertickets.com/event/214125)